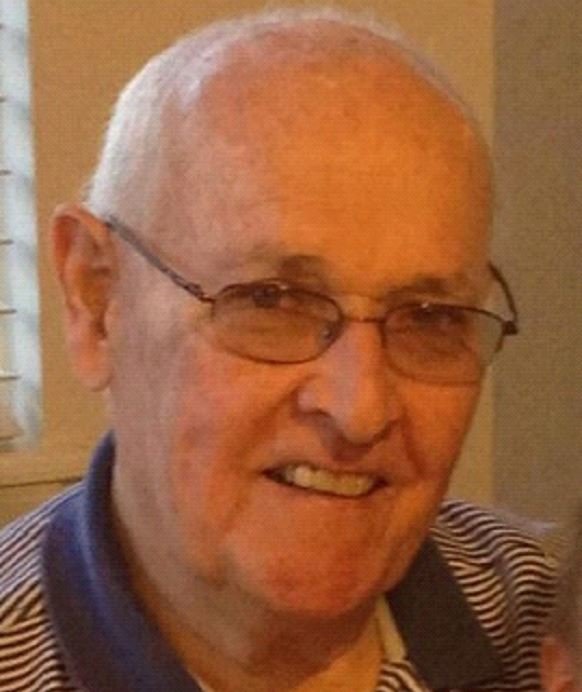 In Memory of
Lawrence D. Ford, Sr.
Tuesday, July 3, 2018
Obituary of Lawrence Ford, Sr.
Lawrence "Larry" D. Ford, Sr
Cumberland, RI Lawrence "Larry" D. Ford, Sr, a 60-year resident of Olean and 32-year employee of St. Bonaventure University, passed away peacefully on Tuesday (July 3, 2018) in Cumberland, R.I with family members by his side.
Born December 6, 1938, in Bridgeport, CT, he was the son of John Jr. and Julia Day Ford and was predeceased by brothers: John C. Ford, III and The Hon. G. Sarsfield Ford; nephews: Timothy Ford, John Ford and Rev. Thomas Ford; a niece: Patricia Ford Money and his in-laws: John and Margaret Brenton and Timothy Ryan.
A 1955 graduate of Fairfield Prep in Fairfield, CT and a 1962 graduate of St. Bonaventure University, Larry married his high school sweetheart, Susan "Sue" Ryan, on October 17, 1964 at St. Catherine's Church in Trumbull, CT. Following their wedding, Larry and Sue settled in Olean, NY to continue Larry's career at St. Bonaventure University, raise a family and become active members of the local community.
Prior to his graduation, Larry served for two years in the Army as a military policeman at Fort Lewis in the state of Washington. Upon his graduation, his career at St. Bonaventure University began as the Assistant Director of Food Service. He loved Bonnies basketball and his true Bonnie spirit shined when he was named the first Director of the Reilly Center and Ticket Manager in 1966.
Larry's affinity for family and Bonaventure was apparent in the way he lived day to day. He and Sue exemplified a true Franciscan way of life and opened their doors to many community members who soon became lifelong friends and family. As one of the countless former students - turned life-long friend recently shared: "Be it an in-your-face reprimand or quiet Irish counsel, for many of us, his unique style of guidance outlasted four years of college life. It spans five decades of lasting mentorship, friendship and always sound advice."
Among his many nieces and nephews, Larry was affectionally referred to as "Uncle Lar." Several nieces and nephews followed Uncle Lar to St. Bonaventure, and it soon was a home away from home for several children from Fairfield County, CT.
In 1978, Larry responded to the University's request that he broaden his role in the community, becoming the Director of Personnel and later adding the responsibilities of Director of Auxilary Services. These were roles he filled with exceptional grace, finesse and competence until his retirement from his ever-loved St. Bonaventure in 1994.
Along the way, he earned a master's degree in counseling from St. Bonaventure in 1982 and became a key staff member involved in many aspects of campus life. Throughout his career, he was especially associated with the Bonnies basketball program, serving as a confidant to coaches from Eddie Donovan to Mark Schmidt. He was a member of a panel advising the Board of Trustees on athletics and the University's Athletic Hall of Fame Committee. In 2014 he was recognized during a halftime ceremony in the Reilly Center for his contributions to St. Bonaventure athletics.
After some time away from the college campus, Larry was called from retirement to become the principal of the Southern Tier Catholic School, where he continued to mentor and guide faculty and students, and contribute his life's wisdom as a parent, administrator and member of St. Mary of the Angels Parish.
Larry was recognized in 2001 with the Gilbert Stinger Memorial Award for local service and in 2008 St. Bonaventure presented him with one of its 150th Anniversary Celebration Medals. Archbishop Walsh Academy recognized Larry, along with his wife Sue, in 2001 with the Person of the Year Award and again in 2016 with the inaugural Funda Nos In Pace Award for their commitment to Catholic Education. Larry also was a member of the Knights of Columbus.
Larry is survived by his bride of 53 years, Susan Ryan Ford; his five children: Rev. Lawrence D. Ford, OFM of New York, NY; W. Ryan Ford (Pamela Scaccia) of Charlton, MA; Sean C. Ford (Nora Roach) of Ridgefield, CT; Colleen J. Ford of North Attleboro, MA and Brendan S. Ford of Rochester, MN. In addition to his beloved children, he is survived by his six grandchildren: David Ryan Ford, Julia Elizabeth Ford, Andrew William Ford, Siobhan Monica Ford, Kate Ryan Ford, Luke James Ford. Mary Jane Telford of Allegany, NY shares a unique and special place within the Ford family. Larry is also survived by his sisters-in-law: Barbara "Bobbie" McGrath Ford and Joan E. Bender Ford as well as a multitude of nieces, nephews, and Godchildren.
The family would like to acknowledge the special care provided to Larry by Hope Hospice and the staff at the Brookdale Facility in Cumberland, RI.
A wake is scheduled for Tuesday, July 10 from 4:00-8:00 p.m. in the St. Bonaventure University Chapel, with a prayer service at 7:00 p.m. A Mass of Christian Burial will be celebrated at 10:00 a.m. Wednesday, July 11, 2018 in the St. Bonaventure University Chapel followed by interment at the St. Bonaventure Cemetery. Arrangements are being handled by Casey, Halwig & Hartle Funeral Home.
In lieu of flowers, the family prefers donations be made to the Larry Ford Memorial Fund at St. Bonaventure University:
Advancement Office
St. Bonaventure University
3261 West State Road
St. Bonaventure, NY 14778
Condolences may be offered to his wife:
Mrs. Susan R. Ford
10 Old Diamond Hill Road, Suite 351
Cumberland, RI 02864.
Share Your Memory of
Lawrence