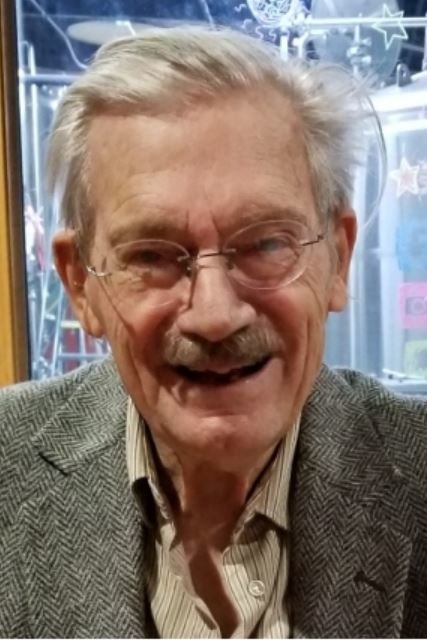 In Memory of
Helmuth O. "Hal" Jacobi
Thursday, January 4, 2018
Obituary of Helmuth Jacobi
Helmuth Owen Jacobi
Olean, NY Helmuth O. Jacobi, "Hal or Jake", died at 95 on Thursday (January 4, 2018) in his home.
Hal was born July 9, 1922 to George and Elizabeth Meyer Jacobi in Hanover, Germany. He immigrated to the United States in 1924, grew up in Carnot, Moon Township, PA and graduated from Carnegie Institute of Technology with a BS in Mechanical Engineering in 1946. During World War II he was inducted Sept 4, 1942 and saw active service from May 19, 1943 to Feb 15, 1946 in the Army Combat Engineer Corp 1485 Engineer Maintenance Company, serving in the Philippines. He moved to Olean in 1946 after taking a position as a design engineer at Clark Bros, now Dresser-Rand, where he designed centrifugal compressors, including the largest ever built. He holds two patents related to compressors. He retired in 1985; his retirement party was quite an affair, with colleagues coming from as far away as Japan and the UK to pay their respects and celebrate.
Hal married Hilda N. Cramer in 1948; they raised two sons, Robert D. Jacobi (Hana) of Buffalo, NY, and William R. Jacobi (Evelyn) of Fort Collins, CO. Hal was always ready to help family, friends and acquaintances with projects and repairs. Helmuth enjoyed his work at Clark Bros., gardening and maintaining the home that he and Hilda built and lived in for over 66 years. He could repair just about anything, but clocks were his specialty. He spent many hours helping his two sons with their many projects over the years, from building model trains, rebuilding canoes and cars, to helping build a playhouse "shack" in the back yard and another in the nearby woods. In later years he would travel to his sons' homes and help with major projects there.
Traveling was a passion of his. He was lucky to travel to some exotic locations for his work; on several trips Hilda was able to accompany him. He especially liked traveling to new areas in the USA and Canada while learning about the local history. Probably the most enjoyable times he had were camping with Hilda in their travel trailer, hiking, and canoeing with family and friends. These trailer trips started with a trip to the New York World's Fair in 1964, and included such trips as hauling the trailer across Newfoundland, where in some areas the newly cut "road" consisted of the forest floor with tree stumps and up to Victoria, BC, to see their son, Bill and family. Many folks will remember the hours of slide shows and related stories about these trips.
Hal was an active member of the First Presbyterian Church in Olean, serving as elder and deacon. He was a long time member of the church choir and Barbershop singers. He volunteered in the Boy Scouts as a Cub Pack Leader and on advisory committees. After retiring he was a volunteer and driver for Interfaith Care Givers and was very active in the Concerned Citizens of Cattaraugus County. Hal was an extraordinary, supportive father, husband, and community citizen. He was always ready to help other people and to make sure they were doing "ok". His sons and all his many, many friends believe he was one of the most special people ever in their lives. He embraced life to the fullest-as an example, he was still tobogganing with his sons into his early 90's.
He is survived by his sons and their wives and two grandsons Kevin (Jess) of Glenwood Springs, CO and Keith (Amy) currently serving in Albania in the Peace Corps.
A celebration of Hal's life will be held Saturday (January 13, 2018) at 1:30 pm at the Olean First Presbyterian Church, 212 Laurens Street with a reception to follow. Private interment will be at the Mt. View Cemetery in Olean.
Flowers are acceptable or memorial donations may be made to: The Olean First Presbyterian Church; The Genesis House, P.O Box 139, Olean, NY 14760; or the Pfeiffer Nature Center, PO Box 802, Portville, NY 14770.
Funeral arrangements are under the direction of the Casey, Halwig & Hartle Funeral Home, Olean. Online condolences may be expresses at oleanfuneralhome.com.
Share Your Memory of
Helmuth