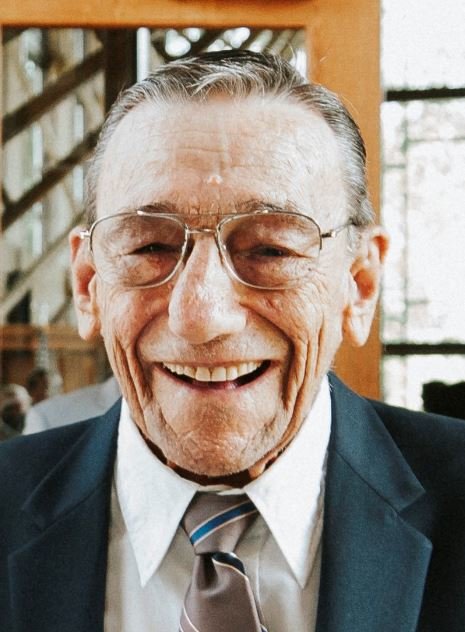 Obituary of Robert McGinty
Robert McGinty, Jr.
Allegany, NY Robert McGinty, Jr. of Allegany passed away peacefully at home on Monday (October 8, 2018).
Born September 30, 1933 in Brooklyn he was the son of Robert and Louise Beatty McGinty, Sr. On November 1, 1958 at the former St. John the Baptist Church in Chipmonk he married Geraldine L. Giardini who predeceased him January 17, 2007.
Robert attended the Manhattan School of Aviation and was a Golden Gloves boxer at that time. He enlisted in the US Army in 1951 and served during the Korean War. He was in the Army Security Agency and was stationed in Alaska and later was an instructor at Ft. Devon in Massachusetts for a year at which time he received an honorable discharge in 1953.
He began his career in 1955 as a New York State Trooper. In the latter years he served the agency as an Investigator for the Bureau of Criminal Investigation until his retirement in 1979.
He was always dedicated to the work of the American Legion and served as a former Cattaraugus County Commander as well as past commander for the Allegany American Legion Charles Harbel Post 892. He initiated the Bath VA visits, the placement of the tank in front of the Post as well as help charter the Sons of the American Legion in Allegany. He also formed the Allegany team that played in the American Legion Baseball League. For many years he was active with the Legion's ritual team.
Surviving are 4 daughters Carrie McGinty of Allegany, Kathleen (Brian) Eaton of Allegany, and twins Kelly (Louis) Woodgie of Allegany and Christie (Scott) Brook of Olean; 6 grandchildren Santana Questa, Joshua (Amanda) Eaton, Eric (Teresa Raines) Eaton, Dakota (Lindsey) Woodgie, Shianne Woodgie and Kyle Brook; 2 great grandchildren Caleb Raines and Oona Eaton and several nieces and nephews.
In addition to his wife and parents he was predeceased by a brother Howard McGinty, a sister Betty Armstrong and a nephew Gregory McGinty
Friends will be received on Saturday (October 13, 2018) from noon to 2:30pm at the Casey, Halwig & Hartle Funeral Home, 3128 W. State Rd. Olean. A memorial service will begin at 2:30pm in the funeral home, conducted by Rev. Carrie Wolfe. Full military honors will immediately follow at St. Bonaventure Cemetery and will be accorded by the ritual team of the Allegany American Legion Charles Harbel Post 892.
Memorials may be made to Homecare and Hospice, 1225 W. State St. Olean, NY 14760 or to the Allegany American Legion, 4350 NY-417, Allegany, NY 14706. Online condolences may be expressed at oleanfuneralhome.com.