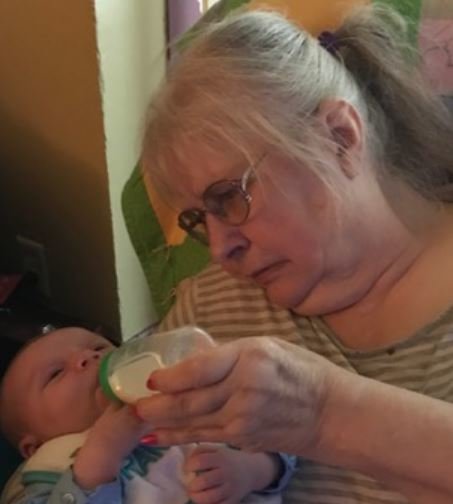 Obituary of Dawn M. Hoffman
Dawn M. Hoffman
Olean, NY Dawn M. Hoffman, 68, of 415 Queen St. passed away peacefully in the loving presence of her family on Friday (October 5, 2018) at the Buffalo General Hospital.
Born June 30, 1950 in Olean she was the daughter of Lester "Spike" and Geneva Stevens Knowlton. She married James C. Hoffman in a civil ceremony on August 25, 1983 and then more formally on August 20, 1988 at St. John's Church.

Dawn was a graduate of Olean High School and attended some classes at Jamestown Community College. She also completed the Hairdressing and Cosmetology program at the Continental School of Beauty in Olean.
She was a member of St. John's Church in Olean.
Dawn worked for a number of years until 2000 at the Bartlett Country Club but will most be remembered for her love of family. Being a mom and grandma was central to her life and she loved having her family nearby and often prepared meals for them. She was blessed with many siblings and loved spending time with her sisters on Bingo night.
Surviving besides her loving husband Jim are 3 children Vicki L. (Jason) Barber of Black Creek, M. Andrew (Jess) John, Jr. of Allegany and Janelle S. (Rodney) Havers of Olean; 4 grandchildren Nakita (Tim Carpenter) John, Janelle-Ryan Havers, Danny Havers and Lincoln John; 1 great grandson Bentley Carpenter; 2 brothers Leroy (Jo) Knowlton of Olean and Willard (Carol) Knowlton of Jamestown; 3 sisters Marcella Brown, Lorraine Knowlton and Barbara (Frank) Williams, all of Olean and several nieces and nephews.
She was predeceased by her parents, and 6 siblings Kenneth Knowlton, Joseph Knowlton, June Knowlton, Mary Elliott, Margaret Larkin and Jane Champlin.
Friends will be received on Monday from 1-3 & 6-8pm at the Casey, Halwig & Hartle Funeral Home 3128 W. State St. Olean. A prayer service will be held Tuesday (October 9, 2018) at 12:30pm in the funeral home. A Mass of Christian Burial will follow at 1:00pm at St. John's Church. Burial will be in Allegany Cemetery.
Memorials may be made to the Medical Loan Closet, 920 N 4th St, Olean, NY 14760.
Online condolences may be expressed at oleanfuneralhome.com.