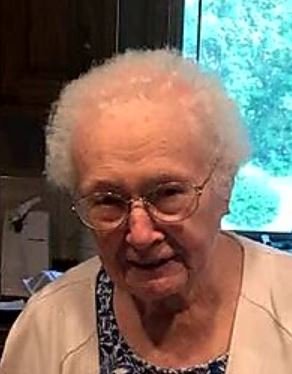 Obituary of Elizabeth I. Palumbo
Elizabeth I. "Betty" Palumbo
Olean, NY Elizabeth I. "Betty" Palumbo of 130 E. Forest Avenue passed away Friday (September 28, 2018) at the Olean General Hospital.
Born July 3, 1927 in Olean she was the daughter of Edward H. and Gertrude G. McCabe McGinnity. On September 3, 1949 at St. John's Church in Olean she married John B. Palumbo who predeceased her March 5, 2004.
Betty attended St. Elizabeth Academy through her junior year in school and graduated from Olean High School in 1944. She was a lifelong parishioner of St. John's Church.
She worked for the former Columbia Gas Co. prior to her marriage and she worked in the former School 7 cafeteria in the early 1960's. She was primarily a homemaker who enjoyed spending time with her family and especially liked cooking Sunday dinner. Her door was always open, and her kitchen never closed.
She is survived by her 7 children the Honorable Daniel (Mary Lou) Palumbo, Kathleen (Stephen) Pachla, Suzanne Palumbo, Thomas (Judy) Palumbo, James "Jason" (Mary Ann) Palumbo, Mary E. Palumbo, all of Olean and Ann (John) Buyea of Scottsville; 12 grandchildren Carolyn (Sean) Crosson, Courtney (Thomas) Mason, Colleen (Matthew) Smith, Daniel (Erin) Palumbo, Matthew Pachla, Michael Palumbo, Brian (Elizabeth) Palumbo, John T. Palumbo, Gina Palumbo, Nicholas Palumbo, Joseph Palumbo and Ethan Buyea; 14 great grandchildren Isabelle, William and Addison Crosson, Madeleine, Riley, Ava and Jack Mason, Sydney and Zachary Smith, Trenton and Brooke Palumbo, Abigail and Henry Pachla and Landon Palumbo a sister-in-law Frances Palumbo of Olean and several cousins including Mary Jo O'Meara of Allegany.
She was predeceased by her husband, her parents and a sister-in-law Anna (Charles) Geary.
Friends will be received on Sunday from 3-7pm at the Casey, Halwig & Hartle Funeral Home 3128 W. State Rd. Olean. A funeral mass will be celebrated on Monday (October 1, 2018) at 10am at St. John's Church in Olean. Burial will be in St. Bonaventure Cemetery.
Memorials may be made to Archbishop Walsh Academy, 208 N. 24th St. Olean, NY 14760 or to St John's Church, 931 N. Union St. Olean, NY 14760.Online condolences may be expressed at oleanfuneralhome.com.