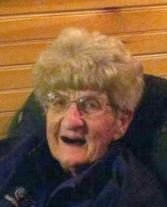 Obituary of Agnes Kuhn
Agnes G. Kuhn
Olean, NY Agnes G. Kuhn of 118 S. 16th St. passed away peacefully Friday (March 16, 2018) at the home of her son.
Born October 7, 1934 Olean she was the daughter of Herman and Gertrude M. Hoak Kuhn, Sr.
Agnes was a lifelong resident of Olean and worked 46 years at the former Olean Tile Plant. She also worked as a cleaning person in the Olean area for numerous professionals, including attorneys and physicians. She remained active at this work past the age of 80.
She was a member of the Basilica of St. Mary of the Angels.
Surviving are a son Kevin (Diane) Kuhn of Hinsdale; 2 grandsons Michael Kuhn and Nicholas (Shannon Boeckmann) Kuhn; 2 great grandsons Bently Kuhn and Colden Kuhn; 1 sister Lauretta Jacobs of Manteca, CA; 1 brother Robert (Nancy) Kuhn of Virginia Beach, VA and many nieces and nephews.
She was predeceased by 5 siblings Marie Bennett, Bernadette Jacobs, Herman Kuhn, Jr., Margaret Kuhn and Jane Kuhn.
Family and friends are invited to attend a funeral service to be held Tuesday (March 20, 2018) at 3:30pm at the Casey, Halwig & Hartle Funeral Home, 3128 W. State Rd. Olean. Visitation will follow the service from 4-7pm. Burial will be in the family plot at St. Bonaventure Cemetery.
Memorials, if desired, may be made to Homecare and Hospice 1225 W. State St. Olean, NY 14760. Online condolences may be expressed at oleanfuneralhome.com.