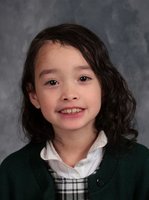 Xiomara Aracali Wallace

Xiomara A. Wallace
OLEAN — Xiomara A. Wallace, age 8, embraced the arms of her Lord on Monday (Aug. 19, 2019) due to a chronic condition of her small but loving heart.
She was the only child born to Edmund Wallace and Janette Santos Cantones Wallace. Xiomara's mother, Janette, had predeceased her due to the same congenital heart ailment.
Xiomara was born Sept. 4, 2010, in Cebu City, the Philippines, and she holds dual citizenship there and in the United States.
Always exuding a joy and happiness with life, Xiomara brightened the lives of others, both while visiting her family in the Philippines and while living with her father in the USA.
She attended John S. Park Elementary School in Las Vegas, Nev., and since September 2018 was a student at Southern Tier Catholic School in Olean.
Xiomara's friends describe her as small but mighty – very witty and astute, always with a smile and never grouchy. She was just thrilled with life, believing that life should be lived with your shoes off, toes in the grass.
At home in Olean, she enjoyed sophisticated kid comedies like "Cloudy with a Chance of Meatballs," "The Emoji Movie" and "Hotel Transylvania." She also loved Calico Critters dolls and toys, and took her favorite well-worn stuffed pony, Fluffy, on every adventure.
Xiomara loved to travel with her father, having visited over 20 of the States, and also Thailand, Singapore, Hong Kong, Germany and of course, her mother's home country – the Philippines. She traveled most of Luzon and the beautiful Visayas where lies her home city of Cebu. Xiomara loved sampling the cuisine of each and every place she visited. Her favorite treats included Olean strawberries and Philippine mangos.
Although a young girl, she was strong in her Catholic upbringing, having recently received the Sacrament of Reconciliation at the Basilica of St. Mary of the Angels this past spring. She enjoyed participating in the Children's Liturgy at Sunday masses.
Xiomara leaves behind her loving father, Edmund Wallace; a grandfather, Antonio Cantones of Song-On, Loon, Bohol, Philippines; a sister, Tiffany Wallace Seymour of Franklin, N.J.; a brother, Shane Wallace of Lock Haven, Pa.; a brother, Jason A. Wallace of San Diego, Calif.; a brother, Edmund A. Wallace II of Las Vegas, Nev. and a brother, Xavier A. Wallace of Taytay, Rizal, Philippines plus myriad cousins and extended family across the USA and the Philippines.
A Mass of Christian Burial will be held Tuesday (August 27, 2019) at Archbishop Walsh High School at 10am. Rev. David Tourville, Parochial Vicar of the Basilica of St. Mary of the Angels, will officiate. At the conclusion of mass, a brief visitation will precede an informal reception in the cafeteria of the school. Burial will follow in St. Bonaventure Cemetery.
Memorials, if desired, may be made to the Archbishop Walsh STCS Scholarship Fund, 208 N. 24th St., Olean, NY 14760.
Arrangements are under the direction of the Casey, Halwig & Hartle Funeral Home, Olean.
Online condolences may be expressed at oleanfuneralhome.com.