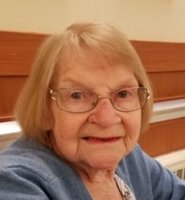 Donna S. MaCauley
Donna S. MaCauley
Allegany, NY Donna S. MaCauley, formerly of E. Union St., entered into the arms of the Lord on Thursday (January 31, 2019) at The Pines Healthcare and Rehabilitation Center in Olean.
Born December 3, 1933 in Allegany she was the daughter of Donald and Anna Mae Wood VanDixon. On September 29, 1956 she married Herbert G. MaCauley who predeceased her May 18, 1992.
Donna was a graduate of Allegany High School and later worked for the former Acme Electric Co. in Allegany for 37 years prior to her retirement.
She was a member of St. John's Lutheran Church in Allegany and she loved music and dancing. Throughout her life she was a blessing to all who knew her. She especially treasured her special times with family and the neighbors on E. Union St. She continued to touch many hearts and was grateful for the friends she met and the care she received in her later years while a resident of Eden Heights and The Pines. It was there she frequently quoted the saying "Getting old isn't for sissies."
Surviving are a son Herbert "Jeff" (Helen) MaCauley of Allegany; 2 daughters Jeanita "Jean" MaCauley of Buffalo and Jill (Mark) Darrow of Spencerport; 6 grandchildren David MaCauley, Dr. Michael (Allison) MaCauley, Adam MaCauley, Bryan Darrow, Matthew (Allison) Darrow and Kaitlyn (Chris McCormick) Darrow; 4 great grandchildren Tate, Molly, Connor and Ryan MaCauley; 1 brother James VanDixon of Olean and several nieces and nephews. She also had a very special person, Dawn Hewitt, who was near and dear to her heart as well as Maggie Nuss, whom she felt a mother's affection for.
In addition to her husband she was predeceased by 2 brothers Theodore VanDixon and Marvin VanDixon.
Friends will be received today (Friday) from 4-7pm at the Casey, Halwig & Hartle Funeral Home, 3128 W. State Rd. Olean. Funeral services will be held Saturday (February 2, 2019) at 1:00pm in St. John's Lutheran Church, N. 4th St. Allegany. Rev. Derek Cheek will officiate. Burial will be in Allegany Cemetery.
Memorials may be made to the Olean General Hospital Foundation, 515 Main St., Olean, NY 14760 or to Friends of The Pines, 2245 W. State St., Olean, NY 14760.
Online condolences may be expressed at oleanfuneralhome.com.