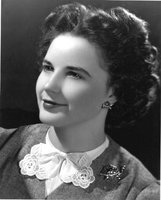 Donna Flaherty Geise
Donna Flaherty Geise
Olean, NY Donna Flaherty Geise, a former longtime resident of N. 13th St., passed away peacefully Tuesday (February 6, 2018) at The Pines of Olean.
Born April 17, 1925 in Olean she was the daughter of Harry and Louise Bates Flagg. On July 23, 1946 at St. Mary of the Angels Church she married Edward H. Flaherty who predeceased her April 28, 1987. In January of 2002 she married Thomas Geise. For several years they lived in Williamsport, PA until his death in 2009 at which time she moved back to her home in Olean.
Mrs. Geise was a 1943 graduate of Olean High School and first worked as a draftswoman at Clark Brothers during the 1940's. Later, for many years, she was a part-time employee at the former Jayne's Clothing Store.
She was a member of the Basilica of St. Mary of the Angels and for many years took part in the care of the church by helping with regular cleaning. She loved to travel with her husbands and enjoyed the outdoors with such activities as flower and vegetable gardening and watching the birds around her home. She loved animals, especially dogs that she used to raise. She also enjoyed the social interaction with friends in doing ceramics.
Surviving are 2 sons David M. Flaherty of Olean and Edward H. (Judith) Flaherty, Jr. of Cambridge, England; 1 daughter Catherine Harrelson of St. Petersburg, FL; 2 grandsons Ciaran Flaherty of Cambridge and Dylan Harrelson of St. Petersburg; a great grandson Dylan Harrelson, Jr. and several nieces and nephews.
In addition to her husbands she was predeceased by a son Terry P. Flaherty in 2003; an infant daughter Sharon in 1953 and 2 sisters Eleanor Fremming and Harriet Speaker.
Friends will be received on Monday from 4-7pm at the Casey, Halwig & Hartle Funeral Home, 3128 W. State Rd. Olean. A prayer service will begin on Tuesday (February 13, 2018) at 9:30am in the funeral home. A funeral service will follow at 10:00am at the Basilica of St. Mary of the Angels. Rev. Gregory Dobson, pastor, will be the celebrant. Burial will follow in St. Bonaventure Cemetery.
Memorials, if desired, may be made to the Basilica of St. Mary of the Angels, 202 S. Union St. Olean, NY 14760 or to the SPCA, PO Box 375, Olean, NY 14760. Online condolences may be expressed at oleanfuneralhome.com.