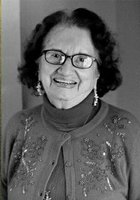 Thelma Barton Klas
Thelma Barton Klas
Allegany, NY Thelma Barton Klas, 103, of Allegany, formerly of Olean until 1965, was received home into the loving arms of her Savior on Tuesday (February 6, 2018). She had been under the care of hospice and was surrounded by the loving presence of her family.
Born February 24, 1914 in North Tonawanda she was the daughter of Walter and Clara Mitchell Follick. On July 20, 1932 at St. Philomena's Church in Franklinville she married Walter D. Barton who predeceased her in 1979. In 1981 she married her second love, Norman W. Klas. He passed away in 1983.
Mrs. Klas was raised in Tonawanda and later moved with her family to Delevan where she completed high school as valedictorian of the class of 1932. She then worked for a period of time as a secretary to the assistant commissioner of the public welfare department of Cattaraugus County in Machias.
She and her husband Walter, the father of her six children, enjoyed winters in Ormond Beach, Fl. After her husband Norman's death, she wintered several years with her daughter Karen in Girard, PA. In recent years, she remained in her home where she had the company of her daughter Emily and the visits of family members. Her infectious smile, constant laughter and love of feeding peanuts to the birds and squirrels that visited her porch, were reminders to those who knew and loved her that she was a blessing to all. She loved playing cards with her daughter Emily and also loved garage sales. The family hopes there are plenty of garage sales and "Cash Word Doublers" to enjoy in Heaven.
She was a member of St. Bonaventure Church and practiced devotion to the Blessed Mother, reciting the rosary daily until her final days on earth. She had also been received into the Third Order of St. Francis.
Surviving are 6 children Walter L. (Beverly) Barton of Zephyrhills, FL, Gary J. (Dolores) Barton of Goldsboro, NC, Karen L. Kwiatkowski of Girard, PA, Timothy J. (Bernadine) Barton of Leland, NC, Emily G. Chandler who resided with her mother and Ann E. (Alan) Henderson of Allegany; 23 grandchildren; 30 great grandchildren; many great great grandchildren; a brother Walter E. (Joanne) Follick, Jr. of Lockport and several nieces and nephews.
Friends will be received on Sunday from 1-3 & 5-7pm at the Casey, Halwig & Hartle Funeral Home, 3128 W. State Rd. Olean. A prayer service will be held Monday (February 12, 2018) at 9:00am in the funeral home, followed by a Mass of Christian Burial at 9:30am in St. Bonaventure Church. Rev. James Vacco, OFM, pastor, will be the celebrant. Burial will be in St. Bonaventure Cemetery.
Memorials if desired, may be made to The Bridge, C/O St. Bonaventure Church, 95 E. Main St., Allegany, NY 14706. Online condolences may be expressed at oleanfuneralhome.com.