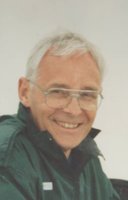 Michael R. Quigley
Michael R. Quigley
Allegany, NY Michael R. Quigley of 129 N. 3rd St. passed away Monday (December 4, 2017) at the Cuba Memorial Hospital Skilled Nursing Facility after a lengthy illness, in the loving presence of his family.
Born July 11, 1939 in Olean he was the son of Richard and Ann Driscoll Quigley. On September 14, 1963 at St. Mary of the Angels Church in Olean he married Patricia C. Straight who survives.
Michael was a 1957 graduate of Olean High School and soon enlisted in the US Marine Corps where he served aboard the USS Des Moines for three years until 1960. During his time of service he and his shipmates were deployed to Lebanon in an effort to offer aide in the country's civil war as well as to protect American citizens there. For that service he was awarded an Armed Forces Expeditionary Medal.
After his discharge he worked with the Pennsylvania Railroad and also worked briefly with the NYS Troopers. For the next nearly 30 years he was employed by Cecchi News Agency, Inc. in Olean. From 1995 until his retirement in 2005 he worked across the country in the oil and gas pipeline business with Pipeliner's Union Local #798.
He was a member of St. Bonaventure Church, the Cuba VFW and was a former member of the South Buffalo Athletic Club. He was an avid runner, having competed in many marathons including an event in Ireland in 1993. Along with his wife he also made a memorable coast-to-coast bicycle trip across Ireland. What he most enjoyed was the time he spent with his beloved wife and family.
Surviving besides his wife are a son Daniel (Monica) Quigley of Ft. Lauderdale, FL; a daughter Susan Quigley of Allegany; 4 grandchildren Allison Lindquist, Shane Lindquist, Olivia Lindquist and Glen Patrick Quigley; 4 siblings Joseph (Kay) Quigley of Allegany, Kathleen Quigley and Mary Quigley, both of Olean and Ann Marie (Kellie Piekarsky) Quigley of Reston, VA and several nieces and nephews.
In addition to his parents he was predeceased by a brother John Quigley in April of this year.
Friends will be received on Friday from 4-7pm at the Casey, Halwig & Hartle Funeral Home 3128 W. State Rd. Olean. Funeral services will be held Saturday (December 9, 2017) beginning with a prayer service at 9am in the funeral home followed by a Mass of Christian Burial at 9:30am in St. Bonaventure Church. Rev. James Vacco, OFM, pastor, will be the celebrant. Burial will be in St. Bonaventure Cemetery with full military honors being accorded by the Allegany American Legion Ritual Team.
Memorials, if desired, may be made to St. Bonaventure Church. Online condolences may be expressed at oleanfuneralhome.com.