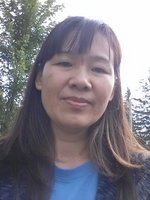 Xiaoqiong Guo-Margeson
Xiaoqiong Guo-Margeson
Allegany, NY Xiaoqiong Guo-Margeson, 46, of 50 N. 5th St. died unexpectedly Saturday (November 25, 2017) at the Buffalo General Hospital, surrounded by her loving family.
Born May 11, 1971 in China, she was the daughter of Maojiang and Youzhen Wen Guo. On December 17, 2013 in Olean she married Timothy P. Margeson who survives.
Xiaoqiong loved being a mother and homemaker. She took much pride and joy in teaching her youngest son the language and customs of their homeland, China. She enjoyed reading Chinese newspapers and preparing Chinese meals. She also liked riding her bicycle, gardening and watching television.
She is survived by her husband Tim; 2 sons Cao, Lang and Cao, Yong; an older brother Aiqing Guo, a sister-in-law Daju Yang; another brother Long Cheng Guo and sister-in-law Guanglin Qiu.
The family will be present to receive friends on Tuesday from 6-8pm at the Casey, Halwig & Hartle Funeral Home, 3128 W. State Rd. Olean. A funeral service will be held Wednesday (December 6, 2017) at 11:00am in the funeral home. Burial will follow in Allegany Cemetery.
Memorials, if desired, may be made to the Olean Food Pantry, 8 Leo Moss Dr, Olean, NY 14760.
Online condolences may be expressed at oleanfuneralhome.com.