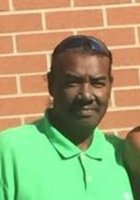 Odis Lee Barber
Odis Lee Barber, Jr.
Allegany, NY
Odis Lee Barber, Jr. of 4115 South 9 Mile Road, Allegany, NY went to be with his Lord on Thursday, November 30, 2017 at Buffalo General Hospital after a long battle with cancer.
Born July 9, 1961, in Cuba, NY he was the son of the late Odis Lee Barber, Sr. of Olean NY and Eunice Julia Groves Barber of Friendship, NY.
Odis grew up in Friendship and was a 1979 graduate of Friendship Central School and BOCES Drafting Program. After graduation, he moved to Arcade, NY and worked for Motorola Corporation for 9 years. Later he moved to Seattle, WA and worked for 2 years at a logging company. In 1989, he accepted a position at Great Lakes Cheese in Cuba NY, and worked in several areas of the plant as a dedicated employee for 26 years until his retirement in 2015.
A family man, Odis was a loving husband and dedicated father. An avid camper and fisherman, he often planned family vacations and camping trips with his family. As a dedicated father of Trevin and Owen, you would always find him at their track meets and other sporting events whether in town, or anywhere across the state. As a sports enthusiast, Odis enjoyed supporting his favorite football teams the Oakland Raiders and Buffalo Bills; he was also a huge NASCAR fan, especially Jeff Gordan. He loved music and made a point to go to live concerts of his favorite bands. A gentle giant, always kind and loving, 'Lee' made friends everywhere he went. Odis was a member of the Friendship Church of God in Christ.
Surviving are his wife, Carol Miller Barber (daughter of the late Joe & Dorthy Miller) of Allegany, NY; his sons Trevin Odis Lee Barber of Fort Worth, TX and Owen Christopher Lee Barber of Allegany, NY. Siblings including Michael Barber of Buffalo, NY; Nadine Barber of Friendship, NY; Elizabeth (Brian) Cowburn of Ulysses, PA; Mark Barber of Olean, NY; Felicia Barber of Westfield, MA; Raymond (Beth) Barber of Flushing, MI; Chris (Carrie) Barber of Olean, NY; Gary Miller (brother-in-law) of Montpelier, VT; and Barbara Kahle (sister-in-law) of Prentisvale, PA.
Several nieces and nephews including Jessica Barber of Virginia; Andre, Brandon, Jaylin, and NaKeisha Barber of Friendship, NY; James Paukstela of Albany, NY; Logan Barber of Olean, NY; Arianna Barber of Nashville, TN; DaVante & Mataeo Barber of Buffalo, NY; Tyler, London, Logan, and Tory Barber of Flushing, MI; Julius, Tia, Braelynn, Oakland, and Aaliyah Barber of Olean, NY.
Also surviving are his aunts Naomi Solomon and Luci (Emmanuel) LaVenture of Friendship, NY; uncles Joseph Groves of Friendship, NY and Russell (Lorraine) Groves of Baltimore, MD; as well as several cousins and extended family.
The viewing will be held at Casey Halwig & Hartle Funeral Home, 3128 W. State Rd. Olean, NY on Friday, December 1st from 6:00 – 8:00pm, and Saturday, December 2nd from 11:00am – noon. Funeral services will be held Saturday, December 1, 2017 at noon at the funeral home. Pastor Luci LaVenture of Friendship, NY will officiate. Burial will be at Maple Grove Cemetery in Friendship, NY.
Memorials can be made to Friendship Church of God in Christ Mission AGAPE Food Pantry at PO Box 35, 77 West Main Street, Friendship, NY 14739. Online condolences may be expressed at oleanfuneralhome.com.