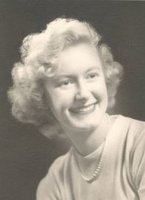 Barbara Ann Lawrence Hubner
Barbara Ann Lawrence Hubner
Olean, NY Barbara Ann Lawrence Hubner of 146 N. 7th St. entered into the loving arms of the Lord Wednesday (September 27, 2017) at her home after an extended illness.
Born October 29, 1934 in Olean she was the daughter of Donald Edward and Julia Ellen Carlson Lawrence.
Mrs. Hubner was a 1952 graduate of Olean High School and in her earlier working years was employed by Prudential Insurance Co. and the former First National Bank in Olean. She then worked for 33 years for the Olean Medical Group prior to her retirement.
She lived her life with a genuine love of the Lord and she enjoyed listening to the radio program "Thru The Bible With J. Vernon McGee". She appreciated life's simple blessings, characterized by her hearty laugh, love of family, dancing, and feeding the birds outside her home. She also loved the warm companionship provided by her cat Sophie Mae.
Surviving are a daughter Danae (Walter) Schwatka of Westampton, NJ; a son Daniel French of Olean and his girlfriend Kimberly Schumaker; 5 grandchildren Justin French, Jamie (Joseph) Coccarelli, Sarah Germain-Tardieu, Heather (William) Sommer and Kristy (Frank) Salefski; 10 great grandchildren; a half sister Susan (Edward) Robota of Tempe, AZ; a half brother Mark Lawrence of Warren, PA; a former daughter-n-law Anita Hemenway French of Allegany and a former step daughter Paula Kent (Gary) Ursoy of Olean.
Private funeral and burial services will be held at the family's convenience with burial in Allegany Cemetery.
In lieu of flowers, memorials may be made to Homecare and Hospice 1225 W. State St. Olean, NY 14760, the Cattaraugus County Sheriff's Canine Unit, 301 Court St. Little Valley, NY 14755 or to the recent victims of the hurricanes.
Arrangements are under the direction of the Casey, Halwig & Hartle Funeral Home, Olean. Online condolences may be expressed at oleanfuneralhome.com.